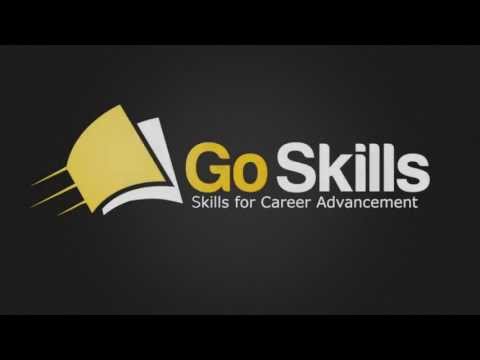 Microsoft Excel by GoSkills
Microsoft Excel by GoSkills is a brief course for beginners. It aims to familiarize you with the basics, as well as some of Excel's advanced features.
Taught by Microsoft MVP Ken Puls, the course takes you through the main Excel functions. Get familiar with the software and learn to manage, as well as analyze data with it. The lessons are in the form of 3 to 5-minute videos, which makes them easy to digest.
By the end of the course, you will receive a certificate proving your skills. You can also proceed to other courses on more advanced topics.
Microsoft Excel by GoSkills teaches you what you need to know to use MS Excel competently. The entire course is brief and quick, lasting only four hours.
The course is taught by Ken Puls, a Certified Management Accountant (CMA) with immense experience in using MS Excel. The lessons are done with MS Excel 2013 and 2016, but the course itself is ideal even for version 2010. Wherever the 2013 and 2016 interfaces look different from that 2010's, the lessons include videos using specifically version 2010.
The course is divided into 49 videos, each 3 to 5 minutes in length. Through the lessons, you will learn how to use Excel, input and edit data, perform calculations, use functions, analyze inputs, and use LOOKUP features, among others. Tests and quizzes are provided to keep you challenged.
You can access your lessons via mobile, which allows you to learn at your own pace and comfort. At the end of the course, you will receive a certificate proving the skills you have learned from the program.
To get started, you have to choose your desired plan. You can opt for Lite, which gives you access to just one course. The Pro plan gives you access to all courses in GoSkills. You can pay either monthly or annually.
Product Details
Pricing Model
Subscription
Devices Supported
iOS, Web, Android
Audience
Lifelong Learning
Home run! Great <a h
Home run! Great
slguging
with that answer!
You've really captur
You've really captured all the esilatsnes in this subject area, haven't you?