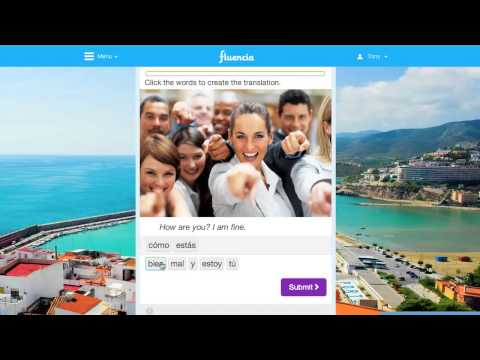 Fluencia
Fluencia is for people who want to learn to speak Spanish for a variety of goals. Their methods are derived from and proven by research. Their SmartReview℠ technology works hand in hand with their intelligent feedback system to identify areas you need to improve on.
Lessons under Fluencia are aimed to help you develop the ability to converse in full Spanish sentences. You learn through fun, interactive activities that use great images and native-speaking audio.
Fluencia does not have an app, but it can be accessed through any web and mobile device through its website.
Fluencia is a language learning solution for those who want to learn how to speak Spanish. Instead of the usual textbook instruction, Fluencia uses engaging images, fun activities, and cutting edge technology to help students develop and retain vocabulary, as well maintain conversations using full sentences.
Lessons are delivered through native-speaking audio and are aided by high-quality images. Engaging exercises keep you interested, while Fluencia's spaced-repetition method facilitates in retention. Thanks to their SmartReview℠ technology, feedback is delivered fast. They explain your mistakes, allowing you to identify areas for improvement.
Getting started is easy. You just need to register via their website. Once this is done, the app will ask for your reasons for learning Spanish. You can tick off one or more of the following: Travel, Work, Family, Fun, School, or Others. After this, you will start your free trial with lessons on greetings and other basic topics. There are 10 levels. Each level comes with more than 60 lessons, for a total of 600+ lessons in all.
To access more advanced levels, you need to select a subscription plan. There are three options available: Monthly, Yearly, and 2 Years. Payments may be made through major credit cards (Visa, Mastercard, Discover, and American Express) and PayPal. With a premium subscription, you gain access to a slew of features, such as voice recognition, SmartReview℠, all the lessons available, personalized email reminders, and the ability to cancel anytime. All plans come with a 30-day money back guarantee.
Fluencia does not have a mobile app, but their website can be accessed through any computer, mobile phone, or tablet.
Product Details
Pricing Model
Subscription
Devices supported
Web, iOS, Android
Audience
High-School, Higher-Education, Lifelong Learning
You really leanr with Fluencia
Compared to Duolingo, the exercises on Fluencia are harder but you learn way more (the way it should be). $100 a year is not much for quality education.
Great Tool that get you to speak Spanish
I have been using Fluencia for 4 months before our trip to Mexico and was surprised that the locals did actually understand me (most of the time). The focus is clearly on communication and Fluencia gets you to practice a lot which is great.