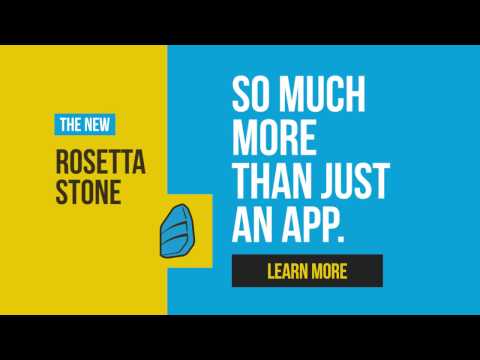 Rosetta Stone
Trusted by millions and with 30 languages on offer, the Rosetta Stone solutions are considered a standard in computer-based language learning. The award-winning multi-device app allows you to access lessons anytime and anywhere (even offline).
The app comes with both a phrasebook – a great help for traveling – as well as downloadable audio lessons that let you listen and learn offline. You also get the ability to improve your pronunciation with TruAccent, their own accent training technology.
Additionally, you may opt for live tutoring (for a fee) to speak with native speaking tutors.
If you want to purchase Rosetta Stone, you have two options: you could either buy a subscription (for 3, 6, 12, or 24 months) or buy all the content at once via instant download. Both the subscription and the instant download options come with a 30-Day Money Back guarantee
With the instant download, you will have to choose how many levels you need. As the package always starts at level 1, your choices are therefore level 1 only, levels 1 to 3, or levels 1 to 5.  Note also that if you don't feel like downloading, you could decide to simply buy the CD-ROM.
Subscriptions give you unlimited access to all content and levels, as well as access to TruAccent, their in-house speech recognition algorithm. To top it off, you may book private studio sessions with native speaking tutors, all via additional in-app purchases.
The Rosetta Stone method is a combination of video and hands-on exercises. There is no translation, just a combination of words and images to help you understand what the words mean. You will then have to repeat the words several times. As the next step, you will add the word next to the verb and soon you are on your way to building full sentences.
The content of the lessons is split into sections, such as "family & community" or "business and industry," which helps if you need to focus on a certain area of vocabulary. Rosetta Stone also offers an audio companion, which is a set of downloadable audio lessons. Listening to them will help reinforce what you have just learned.
Product Details
Pricing Model
Subscription, One time license
Live Tutor
Yes (for a fee)
Devices supported
Web, iOS, Android
Audience
School, High-School, Higher-Education, Lifelong Learning
Great Product...but quite expensive
Rosetta Stone is a really great product and the company has been there forever (my parents used their CD!). Their voice recognition software is sometime a bit buggy.. Globally this is an expensive solution, esp. when compared to Duolingo