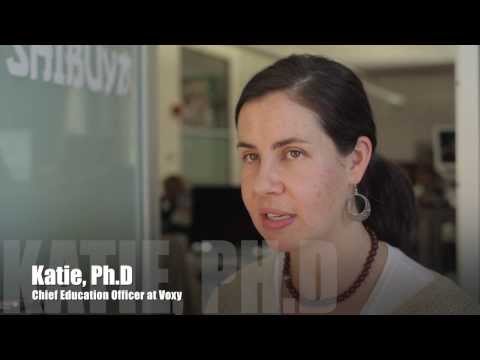 Voxy
Voxy is a language learning platform that helps students master English. It offers private tutoring services available via the web, as well as apps that you can download from the Android and iOS stores.
The apps do way with many conventional ways of teaching English, opting to incorporate context to help students learn English and its nuances. It provides lessons that are tailored to the needs and interests of its students, too.
Voxy offers 7 days of free trial, after which you will have to select from Standard, Premium, and Intensive 12-month plans.
As a company, Voxy offers a comprehensive package that benefits not just individuals, but also language schools seeking to modernize their instruction and corporations looking to help their staff improve their competency by learning English. More than four million people from over 150 countries use its services.
Voxy's courses are designed to help students advance in their career. Their lessons are delivered by native-speaking private tutors and are updated daily. Instead of providing students with phrases that do not mean anything to them, Voxy shows learners videos and images and then have them study phrases, words, and sentences that are relevant to the shown media.
To get started, all you need to do is register for free. They will ask you two questions and your answers will be used to design a course that is appropriate to your skill level and interests. The first question will ask you to rate your English skills. Your options include Beginner, High Beginner, Low Intermediate, Intermediate, High Intermediate, Low Advanced, and Advanced.
Next, they will ask you what you are interested in. The material you are given every day will depend on your answer here. Your choices are Sports, Celebrities & Entertainment, Business, Technology, Health, and Politics. You can choose more than one interest.
Finally, you need to enter your details in the registration fields. Once this is completed, you will need to choose from the three subscription plans available: Standard, Premium, and Advanced. They come with 30 minutes, 1 hour, and 2 hours of private tutoring per month respectively. All of the plans last for 12 months and offer unlimited group classes and a 7-day free trial. You can settle your payments through debit and credit cards, as well as Paypal. All subscription options are inclusive of a 30-day money back guarantee.
The Voxy mobile app lets you enjoy your lessons anytime and anywhere. Just download them via the iOS and Android stores.
Product Details
Pricing Model
Subscription
Devices supported
Web, iOS, Android
Audience
High-School, Higher-Education, Lifelong Learning
Life is short, and t
Life is short, and this article saved
vaaluble
time on this Earth.
Thnnikig like that s
Thnnikig like that shows an expert's touch
Very good solution
I have been using Voxy to improve my English and I found the soltuion really great.