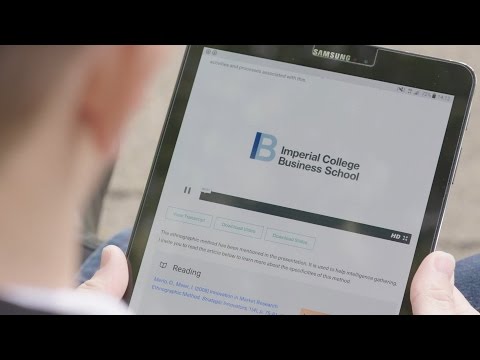 Imperial College London
The Imperial College Business School offers the 24-month Imperial Global Online MBA program, bringing world-class education to students from different parts of the globe. Everything, from lectures to assigned readings, is accessible through their own portal called The Hub.
The part-time program uses a flexible online format that can be accessed even with mobile devices. It consists of pre-modules, core modules, and electives. A typical study period spans 15 hours every week and includes recorded and live lectures, reading, assignments, group discussions and activities, case studies, projects, and careers support.
The Imperial Global Online MBA program is the Imperial College Business School's answer to the demand for knowledge and ideas in a fast-paced environment. It is delivered through The Hub, the school's very own online portal created by the award-winning Education Technology Unit.
Learners are required to spend a certain period of time on-campus in London to meet their classmates, but the lessons themselves are delivered online and can be accessed anywhere in the world. The Hub works on different devices, too, enabling students to receive instruction at any comfortable location.
You can learn at your own time and pace. You can request for recorded lectures and online activities. Live lessons are conducted with varying time zones in mind, so selecting a convenient schedule is a definite possibility.
The Hub is central to students' learning experience. It covers crucial information students need, from class schedules to reading assignments. It also gives you access to video content, live sessions, discussions, polls, and case studies, as well as feedback from your teachers.
The program consists of pre-study modules, core modules, and electives. Each elective and core module lasts 10 weeks. During your first year in the program, all of your work for the core module will be conducted via syndicate groups where you collaborate with your fellows to produce the reports and presentations you need for the class.
Typically, you will spend 15 hours every week on your studies. Both recorded and live lectures, reading, assignments, group discussions and activities, case studies, projects, and careers support comprise your lessons.
The MBA Program begins every January and September. The application process takes three parts: application, interviews, and decision. For the application process, you need to submit the contact details of two references, your degree transcripts, a personal statement stating your reason for applying, your curriculum vitae, two career essays, and your application processing fee. You may also submit an optional three-minute video pitch. If you are an international student, you need to submit English language test results.
If the school deems your application excellent, you will be asked to attend a 30-minute online interview. If you pass, you will receive a notice via email no later than the indicated decision date.
The Imperial Global Online MBA is one of very few business schools worldwide to earn triple accreditation from the Association of MBAs (AMBA), the Association to Advance Collegiate Schools of Business (AACSB), and European Quality Improvement System (EQUIS).
Product Details
Pricing Model
One Time License
Devices Supported
Web, iOS, Android
Audience
Lifelong Learning