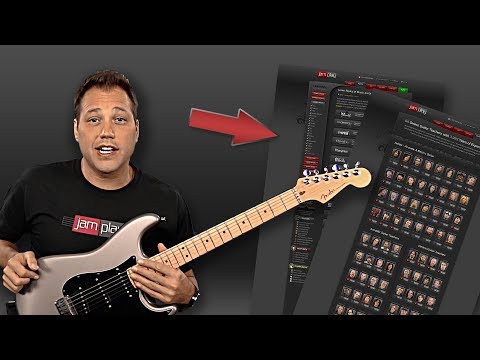 JamPlay.com
JamPlay offers a comprehensive guitar learning experience courtesy of 80 expert guitar teachers. You can catch their lessons not just on the web, but also through their iOS, Android, and Kindle app.
JamPlay presents many ways to master the guitar, whether you're a beginner or someone with experience. In fact, you may even opt to learn specific songs, skills, or genres. They also feature Master Classes delivered by some of the most epic names in the music industry.
The app itself brags many convenient features that make it even more effective. You can modify speeds, for example, or print out supplemental materials for your review.
JamPlay is a comprehensive guitar learning platform that offers instruction from some of the greatest names in music over a huge variety of genres. Their lessons are ideal for beginners, as well as learned players looking to obtain a new skill, get a refresher, or improve their current skillset.
JamPlay offers more than 5,500 lessons divided over 400+ courses. Your choices of music cover 19 genres, including gospel, rock, R&B, pop, jazz, country, funk, classical, metal, fingerstyle, and blues, among others. Lessons are delivered in three phases: Beginner, Genre, and Song. The last two are focused on building and boosting your skills. If you are an experienced player looking to improve your skills, you can also take their Master Classes handled by some of the today's music legends.
The lessons are presented using videos courtesy of more than 80 highly experienced teachers who specialize in either acoustic or electric guitar. In total, they have more than 3,000 years of combined experience within them. You will learn not just songs, but also techniques used in some of today's hottest rock bands. You may also watch live lessons delivered every week, where you may even get the chance to interact with your teacher.
The app is filled with features that support JamPlay's lessons. You can modify the playback speed according to your level of comfort. You can also set bookmarks and loop sections of the video that you need. If you need materials you feel will help you, the JamPlay app has print-ready resources, too. You can also track your progress through a Progress Report. The app itself is responsive, so it is compatible with virtually any mobile device.
To use all of JamPlay's features, you need a subscription in 1 month, 3 months, and 1 year options. The features that become available to you include their Comprehensive Chord library where you can build your own chord sheets. You also get access to the Scales, Jamtracks, and Lick & Riff Libraries, as well as access to interactive games. You also get the chance to interact with their community of guitarists.
JamPlay is available for download for iOS, Android, and Kindle apps.
Product Details
Pricing Model
Subscription
Devices Supported
Web, iOS, Android, Kindle
Audience
Lifelong Learning
Vast selection of songs. The songs are broken down into small sections with video instruction, tips, and tablature, which is great! Sometimes the app is buggy, but nothing major.