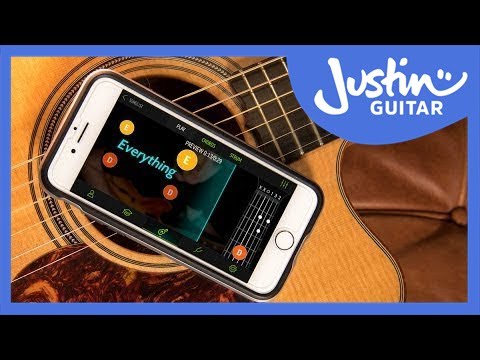 Justin Guitar
If you are a beginner at playing guitar, Justin Guitar may be for you. This app, available for Android and iOS devices, features renowned guitar teacher Justin Sandercoe. The app will give you step-by-step guidance on guitar techniques like strumming, chords, and playing songs.
Players who feel like they need a refresher will also find themselves enjoying the app. It combines fun mechanics, as well as the chance to play your favorite songs while you learn.
Justin Guitar is for both beginners and actual guitar players. Justin Sandercoe, famous for his easy-to-follow guitar web lessons, guides you with step-by-step instructions to help you get the fundamentals and master guitar in no time. Through the course, you will learn guitar techniques like strumming, chords, and playing songs.
The app helps you learn by making you participate in its game-like mechanics. It uses a play-along formula where you play to the tune of 200 songs handpicked by Justin himself. You can change the sound and tempo according to your level of comfort. The music genres include pop, rock, classic rock, traditional music, country, and R&B.
Downloading the app is free. However, you will need to subscribe to fully enjoy all of its features. The subscription options available are monthly and yearly. When you subscribe, you will get all the lessons (25 videos, more than 90 minutes), chord change counter, self-assessment feature, all the songs, and a user-friendly tuner.
The app is available on the Android and Apple app stores.
Product Details
Pricing Model
Subscription
Devices Supported
Android, iOS
Audience
Lifelong Learning
Good program and course. Takes lots of practice and then comes together.
Intuitive and amazing
It was very clear, super easy to learn with the app. The subscription is a bit hard to swallow though, but again everyrthing is in one place.
Fully recommended
I have tried to learn guitar several times and ended up giving up as the tutors made me feel I should improve faster. I feel encouraged to keep playing with Justin this time. Fully recommend to anyone