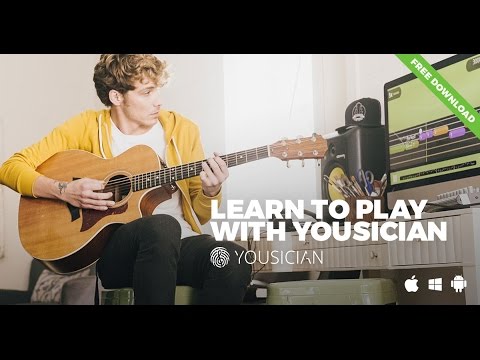 Yousician
Yousician is a music instrument learning application created for both beginners and experienced musicians. The app offers instruction in 4 instruments: piano, guitar, bass, and ukulele. It is available on the iOS and Android app stores. You can also download a desktop version through their website.
The app uses your device's microphone to listen to you play and provide real-time feedback. It includes hundreds of videos, exercises, and missions designed by music experts to help you develop real-world music skills.
Yousician lets you learn four instruments: piano, guitar, bass, and ukulele. You can download the web app through their website and the mobile app through the iOS and Android app stores.
The platform works by "listening" to you using your device's microphone. It then gives you instant feedback on your accuracy and timing. Using the app does not require any additional accessories except the instrument you are learning to play.
Beginners will benefit from the more than 1,500 exercises and missions that come with the app. Step-by-step instructions are delivered through videos. The lessons were designed by music experts and cover topics that include sight-reading sheet music, chords, strumming, melodies, lead, and fingerpicking, among many others. The app stores your achievements, allowing you to keep track of your progress. The entire experience feels like a game, which helps keep learners interested and motivated.
Yousician is also for experienced musicians. Aside from helping you improve your skills, the app also keeps you pumped through weekly challenges that pit you against other Yousicians from around the world. The app also helps improve your knowledge of music theory and includes special trainers for each skill and chord. You can also record and upload your own music and exercises to the app.
Yousician's subscription plans come in several varieties. They offer two kinds of monthly plans: one for a single instrument and another that covers all instruments. The same is true for their yearly plans as well. You will get a 7-day free trial is you subscribe to the yearly plans. The free trial lets you cancel anytime within the 7-day period. Your payment can be settled through Visa, Mastercard, and American Express.
Product Details
Pricing Model
Subscription
Devices supported
Web, Android, iOS
Audience
Lifelong Learning
<a href="http://xssj
Haahhhaa.
I'm not too bright today. Great post!
With the bases loade
With the bases loaded you struck us out with that anrsew!
Very effective app
Very effective app to learn how to play the guitar.
App is amazing
This app has been amazing: I haven't made progress that fast with an instrument since ages. Even in the free mode, there is plenty to gain from it. The subscription isn't that pricey either and in anyways, cheaper than private lessons locally.