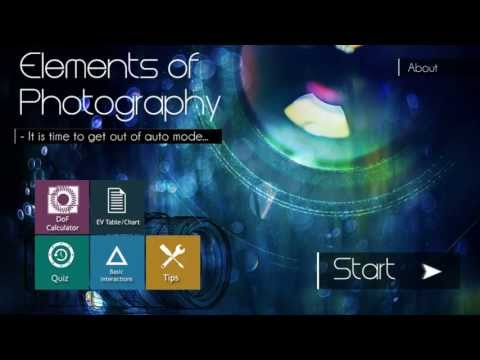 Elements of Photography
Elements of Photography, also known as EoP, is a photography app. It offers everything from tips to tool recommendations valuable to budding photographers. The app is available on the Apple, Android, and Amazon stores.
EoP does away with heavy text and instead, focuses on providing real-world images and examples. It is highly interactive, demonstrating how different camera settings affect resulting images. To test your knowledge, it even comes with quizzes and activities.
Moreover, EoP uses scalable graphics that make it ideal for any mobile device.
Elements of Photography, otherwise known as EoP is a photography app available on the Android, iOS, and Amazon stores. It was designed for both beginners and experienced photographers, offering advice and recommendations on how to master manual photography.
EoP is highly interactive. Instead of using text-heavy content and long video lessons, the app provides real-world examples and images, along with short guides and instructions. It shows you how changing settings modify resulting images. To test your knowledge, the app even comes with quizzes and activities.
The app comes with 6 chapters covering basic to advanced topics. Lessons discuss subjects like Focal Length, Aperture, Shutter Speed, Metering, Histogram, and Camera Modes, among many others. It also provides various tips on subjects that include Travel, Wildlife, Sports, and Portraits. You can also get valuable tips on useful tools and resources.
EoP's graphics are high-definition and are extremely scalable. This makes the app perfect for use in virtually any mobile device. Its portability means you can use it even while traveling or searching for that perfect shot.
Product Details
Devices Supported
iOS, Android
Audience
Lifelong Learning
Finally an app that explains the jargon!
Finally I found an app that explains all the jargon clearly, in a way I could understand. The information is also applicable super easily, which really helps if you are just starting.