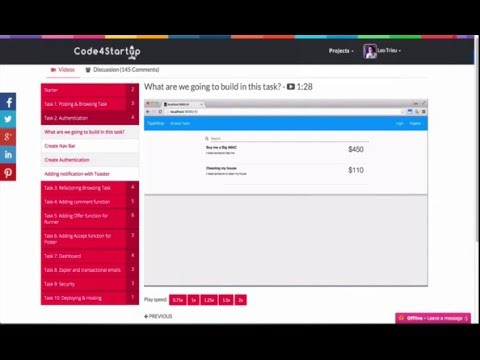 Code4Startup
Coding is not always about skills. You also need experience. Holistic outcomes are what learning with Code4Startup offers.
This learning platform is unique in that it teaches you how to code through practice. You create existing startups, such as Tinder and Airbnb, using tools like Ruby on Rails, ReactJS, Python, NodeJS, and others. Free and Ninja tutorials are available to help you out. This approach allows you to learn the mechanics behind startups. You also learn how to create apps of your own in the future.
Code4Startup's features are accessible through subscriptions, although free previews are available.
Code4Startup gives you both skills and experience. In this learning platform, you understand how startups like Tinder, UberEats, and Airbnb function by coding them yourself. What this means is that you not only learn how to use a particular markup or coding language, you also gather experience you can use to create your own app in the future.
When you register for free, you will get access to a dashboard where you will find all available projects. These are divided into Pro and Premium projects, both of which may be accessed fully only with a subscription. The differences are that the latter is more complex and has additional costs. At times, it is also made available at a discount for a limited period.
Projects can be for both beginners and experienced programmers. They last between 5 and 10 hours. Clicking on a project shows you all the information you need to know about it. These include an overview, the skills you will develop, the features you will build, and the requirements for the project, such as skills or familiarity with any specific coding language. In most cases, you will also find several preview videos. A tab opens the list of tasks for the project, as well as the time it takes to complete said tasks. You will be able to unlock tasks only after you have accomplished the ones preceding it. Another tab opens students' reviews of the project. Projects give you access to the full source code, as well a discussion support page where you may talk about your tasks and seek assistance in completing them.
Your lessons are delivered through videos. What if you are a complete beginner and know nothing about the coding languages involved? No worries. Code4Startup provides 1-hour tutorials classified either as Free or Ninja. Currently available tutorials are for Bootstrap, Ruby on Rails, Heroku, Wistia, ReactJS, Python, Swift 3, NodeJS, Android, and React Native. The tutorial section works the same way as the projects but offers no preview.
Code4Startup offers three subscription options: Ninja, Value, and Unlimited. All are monthly plans. You can unsubscribe anytime at no additional cost, and re-subscribe to resume your lessons. In the latter, you won't have to take the lessons you have already completed.
The Ninja Plan gives you access to all Ninja tutorials, as well as to members-only support. The Value Plan provides all this along with a new PRO project every 30 days, as well as all associated source codes. Finally, the Unlimited Plan gives you access to all these, including all the PRO projects. This means you don't need to wait for 30 days just to advance to the next level.
Product Details
Pricing Model
Subscription
Audience
Lifelong Learning