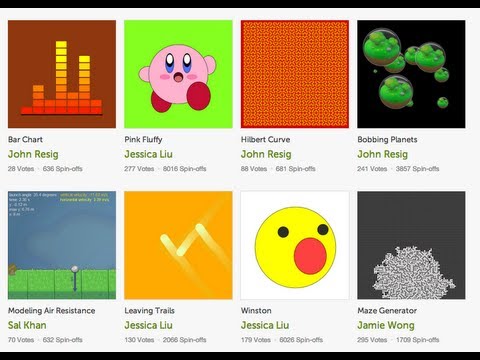 Khan Academy
Khan Academy is non-profit organization aiming to make world-class education available to everyone free of charge. Today, the group offers instructional videos, exercises, and other learning aids on topics like math, science, art, and economics, to name a few.
Khan Academy's computing division covers an expansive variety of topics, including basic JavaScript, HTML, CSS, and SQL. Their materials aim to equip kids with the skills needed to make their own websites and games.
Khan Academy has partnered with very prominent tech organizations, such as NASA, MIT, and California Academy of Sciences.
Khan Academy was founded by Salman Khan. It is a non-profit organization aiming to make world-class education free for everyone. They provide learning materials, such as instructional videos and exercises on a large range of topics, computing being one of them.
Khan Academy's computing courses cover the basics, as well as more advanced topics. Its aim is to help kids learn how to make their own website, code their own graphics, or design their own games. As such, they go beyond basic HTML and CSS, and include JavaScript, jQuery, SQL, databases, algorithms, and the Internet.
Khan Academy offers materials for students, parents, and teachers. Students are exposed to instructional videos and hands-on activities that test how much of the topic they learned. The videos demonstrate how codes work and their effect on the final result. Clarifications are offered where needed. GIFs are also part of the materials, especially in sections where repetition is key to learning. For those who have somehow missed their lesson or are unable to view the videos directly on the site, Khan Academy's YouTube channel contains copies of the resources.
If you want to stop in the middle of your activity, you can download the exercise and get back to it later. You can also download the Kahn Academy app through the iOS and Android stores so you can have your lessons anywhere comfortable for you.
Khan Academy's materials are free, but you can donate or volunteer to support their cause.
Product Details
Devices supported
Web, iOS, android