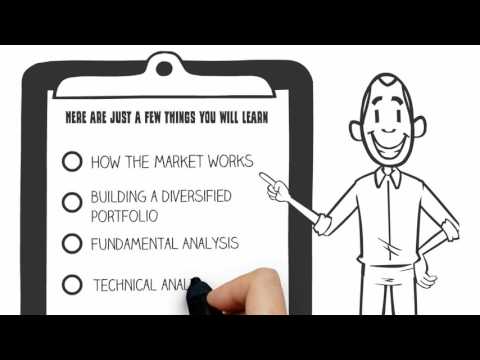 Investing 101
Investing 101 offers a beginners investment course for those who want to start trading. The curriculum uses a combination of theory, as well as a real-world stock market simulation for holistic learning.
The entire course consists of 10 chapters, 9 of which are full lessons. Every chapter contains up to 10 topics. The lessons are comprehensive, covering basic market information, as well options trading. Additionally, the last chapter provides tips for success in trading. You also use a fully featured virtual trading account so you can practice while you study.
You need to pay a small fee to join Investing 101 and enjoy all of its features.
Investing 101 offers an opportunity for beginners to get started on investing. Their beginner's investment course is a comprehensive study that covers everything from the basics down to advanced trading-related topics.
The course is composed of 10 chapters, each covering around 10 topics. Of these chapters, 9 are full lessons on investing subjects, such as market movements, options trading, portfolios, charts, and common terminologies, among others. The last chapter consists of tips towards achieving success as an investor, including developing an effective strategy and avoiding the most common mistakes in trading. The course is entirely online, so you can learn at your own pace.
Each chapter includes quizzes and exercises to help you retain what you learn. Feedbacks on your quizzes are instantaneous, so you can evaluate your progress real-time. You can download all of the course's content for your future reference in the form of a PDF eBook. Because trading essentially requires hands-on experience, you will have unlimited access to a fully featured, virtual trading account that simulates the real-world stock market so you can practice trading without the financial risks.
If you think you would need further assistance from a mentor, Investing 101 has you covered. You get email support from Stock Trak's founder, Mark Brookshire. This means learning from his more than 20 years as an investor and stock market educator. Furthermore, you will be given the 101 Stock Investing Tips eBook which you can use even after you have completed your studies.
To enroll in Investing 101's online course you'd need to pay a small one-time fee. This will enable you to enjoy all the perks offered, including a 7-day money-back guarantee.
Product Details
Pricing Model
One-Time License
Audience
School, Lifelong Learning